The All on Four dental implant solution is an effective way of replacing a complete set of missing or damaged teeth with immediate results.
This technique allows us to give you a full set of fixed, permanent teeth, that rests on just four dental implants. 
The All on Four technique is an innovative approach to teeth replacement that was developed over a decade ago.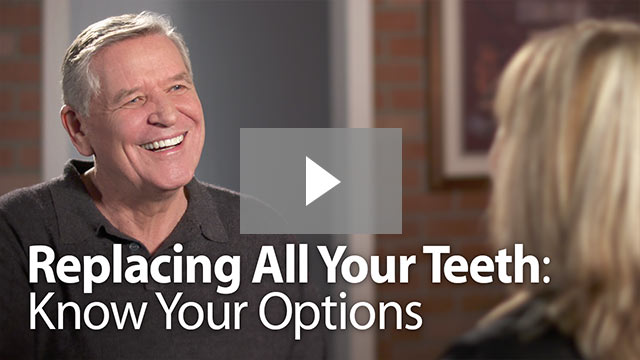 It was designed to provide people with an alternative to ordinary dentures using as few dental implants as possible. The natural-looking teeth are fixed in your jawbone enabling you to not only look and feel good, but function very similar to your natural teeth.
The vast majority of procedures can be completed within 24 hours after implant placement surgery, allowing you to return to your normal routine quickly and confidently. This treatment is ideal for those who need to replace their failing natural teeth or those that have existing dentures and want to have their dental implant treatment completed quickly.
The end result is an aesthetically pleasing, functional set of teeth that are relatively easy to clean and maintain.
What does the procedure involve?
The All on Four treatment is customised to each patient's needs and wishes, but one of the greatest benefits is the time it takes to complete the treatment without the need for extensive or elaborate bone and soft tissue grafting procedures.
At Rokeby Dental Surgery & Implant Centre, a thorough examination with our experienced team will help us guide you through the best treatment option for you, based on your individual needs. The treatment is normally completed in day surgery for your comfort and convenience.
The first appointment involves a comprehensive evaluation of your oral health. We carefully assess your suitability for the procedure and discuss any concerns you may have.
At your next appointment, we do all the necessary work to allow us to accurately plan your treatment, such as taking impressions (moulds) or digital scans of your teeth to construct study models, surgical guides, x-rays, CT scans, and clinical photographs. These diagnostics ensure every chance of a successful long-term treatment outcome.
During the implant placement appointment, four implants will be placed into your jawbone. There are several options available to ensure you feel relaxed and anxiety free during your treatment, including IV sedation and general anaesthesia.
Usually on the following day the fixed prosthesis is inserted and attached to your implants. You will leave with your new complete set of functional, attractive and permanent teeth!
Visiting the team at Rokeby Dental Surgery & Implant Centre is the first step you need to take to restore your smile.
Contact us on (08) 9381 6611 to book your implant consultation today.