We've collated some of the most commonly asked questions you may have about dental implants.
If you would like more information, please do not hesitate to contact us at our dental clinic in Subiaco.
One of our team will be happy to answer any questions you may have or book you in for your dental implant consultation. Call us on (08) 9381 6611 today.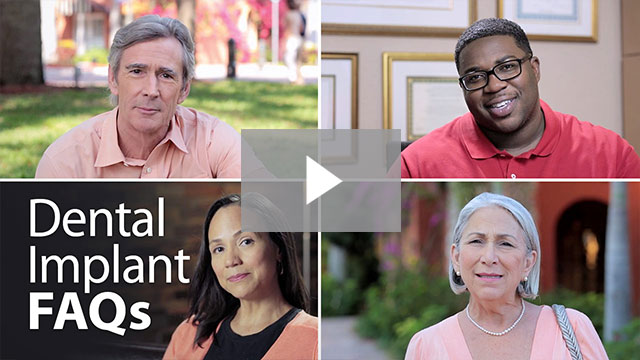 What are dental implants?
Dental implants are artificial tooth roots. They consist of a small titanium screw placed into the gum and jawbone which serve as the replacement for the root portion of a missing tooth.
Why do you use titanium implants?
Titanium used as an implant material as it has high biocompatibility and bonding ability with the bone. What makes it ideal is that it's extremely durable and the human body does not consider it a foreign body and reject it. Because it is a biocompatible material, the surrounding bone, nerves, tissues and gum will form a strong bond with the implant.
Who is best suited for dental implant treatment?
Anyone can be considered as a candidate for dental implants, providing they are reasonably healthy and require a solution for tooth loss. Dental implant patients may be in their late teens or be mature adults in their seventies or eighties.
Good oral health and adequate bone in the jaw are the key requirements for receiving a dental implant. If you have missing teeth with a good bony foundation, you are most likely a good candidate for a dental implant.
Visit our 'Am I a Candidate' page to see if you are able to have dental implants.
How old is too old for dental implants?
Dental implants can help patients at almost every age. On rare occasions some medical conditions may compromise the implant procedure, however your suitability is always assessed prior to any treatment commencing.
What if there isn't enough bone to support the implants?
Dental implants require good bone volume and quality to provide a strong foundation. If you don't have enough bone to support the implant, bone grafting procedures may be used to supplement the existing bone and support the dental implant.
What happens if I don't replace my missing teeth?
Leaving a gap in the mouth can have serious consequences. When a tooth is missing, the teeth around it may begin to move out of place. The consequences could include crooked teeth and gaps in your smile.
Additionally, these movements may create gum problems and/or decay and could lead to the loss of more teeth. As you lose more teeth, you will be forced to chew in other areas, and this often leads to tooth fractures from overloading or jaw problems. This also leads to a loss of jawbone stimulation which can result in bone loss.
How long will my dental implant last?
Once the dental implant has successfully bonded to your jawbone and healed, your dental implant can last a lifetime.
If you're in good health, retain a good oral hygiene routine and have regular visits to your dentist, your chance for success with your implants will be far greater. Dental implants, just like natural teeth, will last as long as you care for them well.
Do all dentists offer implants?
No, not all dentists are trained in implant dentistry. At Rokeby Dental Surgery & Implant Centre, we place emphasis on quality treatment, planning and long-term care. Our team of practitioners are fully qualified and have extensive experience in all aspects of restorative and surgical implant dentistry, including advanced bone grafting procedures.
At Rokeby Dental Surgery & Implant Centre we have found that providing both general dental and implant dental procedures ensures a complete solution to a patient's long-term oral care and is a convenient, practical and cost-effective solution for our patients.
How safe are dental implants?
Dental implants have been around for some time now. Providing your procedure is performed by an experienced professional, the dental implant procedure is completely safe.
Dental implants will last as long as you care for them well, just like natural teeth. In the case of dental implants, you need to follow care instructions and to attend maintenance appointments regularly.
Is dental implant surgery painful?
We will always try to make you as comfortable as possible. Dental implants are placed under local or general anaesthetic and we can also provide additional sedation options to ensure you are comfortable during the treatment.
As with any surgery there may be some swelling, bruising and discomfort afterwards, which is perfectly normal. We will always provide you with any necessary medication and advice and we are only a phone call away if you have any concerns.
How do I care for my dental implants?
Dental implants should be treated with the same care as your natural teeth. Cleaning your dental implants is quite simple and you will need to clean around the implants daily to ensure they stay hygienic. In addition to home care, it is important to maintain regular visits to us at Rokeby Dental Surgery & Implant Centre to ensure the health of your implants.
How do dental implants compare with other treatments for replacing missing teeth?
Dental implants are generally superior to many of their counterparts. Dentures often make a person look and feel older than they are, cause embarrassment in social situations when they slip and click, and restrict the everyday pleasure of eating comfortably.
Dental implants on the other hand are permanent fixtures. They are surgically placed under the gum and fuse with the jaw bone providing the strength and durability of a natural tooth. This can't be found in removable dentures which simply rest on the gum and don't stimulate the bone, resulting in increased bone loss. Dental implants keep the bone stimulated, healthy and strong.
Are dental implants expensive?
Some patients feel that initially, implant treatment is expensive when compared to alternative treatments. Dental implants represent a more permanent and natural solution than other dental treatments, such as dentures. While they may be a greater initial investment, they can cost less than alternative restorative dentistry in the long run.
The value is just not in the treatment cost, they are investment in your quality of life, appearance and health. Dental implants can last for years, even a lifetime if they are properly fitted and cared for.
The cost of dental implants can vary depending on your individual circumstances and any additional procedures required. At Rokeby Dental Surgery & Implant Centre we aim to provide an affordable solution tailored to your needs. Contact us on (08) 9381 6611 and book your dental implant consultation today.
Will the end result look natural?
Dental implants look, feel and function like natural teeth and their appearance will in most cases exceed your expectations. Often patients tell us that their dental implants are hard to tell apart from their natural teeth.
Any surgical or invasive procedure carries risks. Before proceeding, you should seek a second opinion from an appropriately qualified health practitioner.
Ready To Get Started?
For your consultation, please call us on (08) 9381 6611 or request an appointment online.
Make An Appointment