For some, the thought of having an implant surgically placed in their mouth can be intimidating.  While a dental implant is by no means a simple procedure, just knowing what to expect will make all the difference.
Our team at Rokeby Dental Surgery and Implant Centre are highly experienced in dental implant procedures.  We strive to make you feel comfortable throughout the dental implant process and will spend time prior explaining the procedure and discussing your treatment plan with you.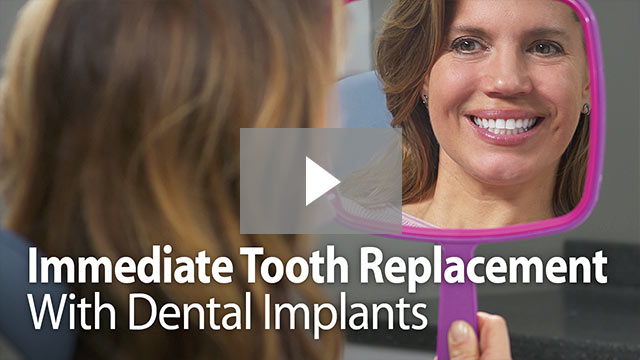 There are several factors that will determine the length of time needed for an implant procedure:
The number of teeth involved
Which teeth are to be replaced?
Your medical and dental health
Whether there are any teeth to be extracted before placement
Is any bone or soft tissue grafting required?
These factors will also determine the number of visits required throughout the treatment process.
In most cases the treatment is relatively uncomplicated, virtually pain-free, and the recovery is normally simple and straightforward.  In addition, most of the time you don't have to be left with a visible gap during any stage of your treatment.  The final outcome will be replacement teeth that look, feel and function like your own.
After your initial assessment and planning the first stage involves a minor surgical procedure to place the implants into the jaw.  Most of the time a single surgical procedure is all that is required.  A temporary tooth replacement option can usually be worn over the implant site during this time.
Over the next two to six months, the jawbone and implant fuse together to create an anchor for your new teeth.  Once this has occurred, a replacement tooth called a crown, will be attached to the artificial tooth root.
Occasionally more than one surgery is required.  Should this be the case our team of experienced implant clinicians will discuss this with you prior to the commencement of any treatment.
Options for Dental Implant Treatments
At Rokeby Dental Surgery & Implant Centre, we offer a variety of dental implant solutions from single to complete teeth replacements.
A thorough examination with our experienced team in Subiaco will help us guide you through the best treatment option for you, based on your individual needs.  Dental implant procedures can be performed using local or general anaesthetic, depending on your preference and the complexity of the procedure. 
Visiting the team at Rokeby Dental Surgery & Implant Centre is the first step you need to take to restore the full function of your smile.
Contact us on (08) 9381 6611 to schedule your consultation today.